Creating Supply Orders in bulk
Introduction
Business Cloud Essentials allows users to create Supply Orders (Purchase Orders or Works Orders) linked with Sales Orders. These can be created:
from a Sales Order Creation or Edit screens (for single SO)
using Create Supply Orders procedure (for bulk SO updates)
Select Orders
Once logged in to Business Cloud Essentials, navigate to the Customers section and select Sales Orders. Multi Select the sales orders in which you want to create supply orders for then Select More and Create supply orders.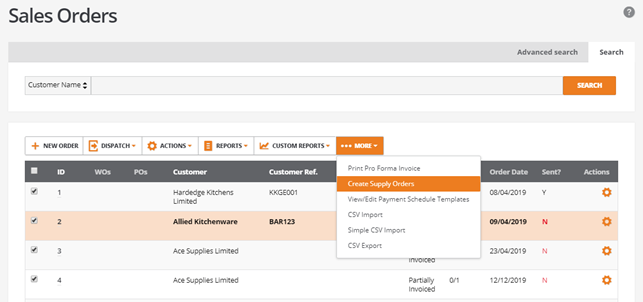 Each sales order will be displayed with stock items on that order. Order details can be shown by expanding an order item.
You can change the order type. The system defaults the order type to purchase order or works order depending on the stock item type, manufactured items will be defaulted to works orders.
For purchased items the system will show:
default supplier,
currency,
supplier stock reference,
Price each,
stock location,
Quantity,
Unit of measure
conversion rate.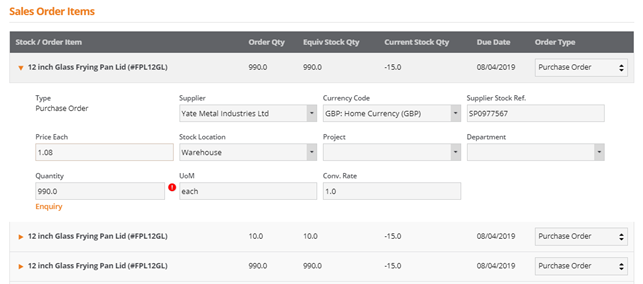 Manufactured items will show:
location and quantity selected
components and quantities for each to be used on the works order.
works order notes can be added at this stage.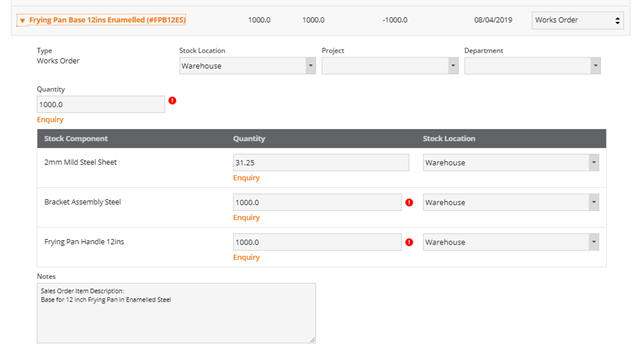 You can also choose to not create an order by changing the order type to None.

Create Supply Orders
Once you are happy with the orders that are being created select create orders at the bottom of the screen.

The system will now go back to the list of sales orders but the new purchase and works orders have been created. The Works order or Purchase order number will be displayed against the sales order number.
---
Did this answer your question?
---