Using the Ideas Portal
Using the Idea's Portal
An idea is a suggestion for a new feature, or an improvement to be added to an existing product.
Each Product Manager regularly reviews the ideas for their product(s) – the ideas with the most votes will be considered by the product team for future development and as the status of your submitted Idea changes (or the status of an existing idea you have subscribed to), you are automatically notified by email.
You can submit as many ideas as you want – there is no limit.
You have an unlimited number of votes – but you can only vote once per idea.
Please do not raise Support issues (e.g. defects, issues, how to requests etc.) in the Ideas Portal. The Ideas Portal is for logging new ideas and improvements/enhancements only.
To access the Ideas Portal
Important, you must first activate your username by contacting the Advanced support team
Once you are setup you can access the ideas portal either via:

login into the Customer Support Portal directly
choosing the in-app 'Resource Centre' > 'Log an idea' (this will still require a login as above)

Select the 'Ideas' Menu option
Select the 'Business Cloud Essentials' portal
How to use the ideas portal
When logging into the ideas portal; you can:
Submit, vote & comment on ideas
Search existing ideas
See the status of existing ideas
Read existing comments
See related ideas
Subscribe ("watch") existing idea(s)
See Trending ideas
See Most Popular ideas
See Recent ideas
Edit your own ideas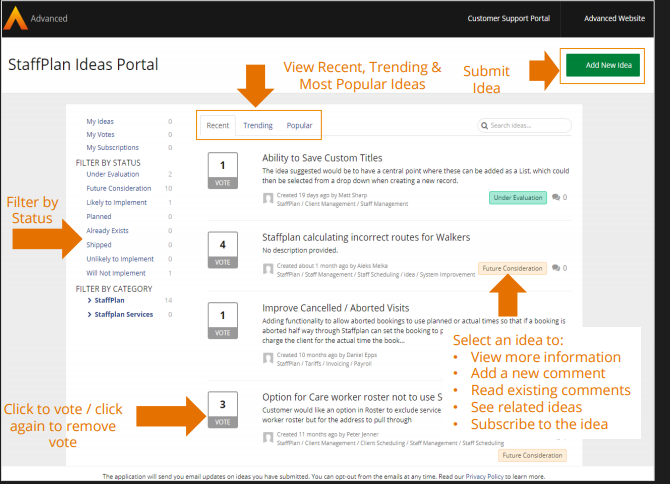 Hints and Tips
Before you log a new idea, please search the existing ideas using the search bar to avoid logging duplicate ideas; if your idea already exists, please vote on the existing idea and add a comment if you wish to.
Existing ideas can be:
• Sorted in chronological order (Recent tab)
• Viewed by which ideas received the most recent votes (Trending tab)
• Viewed by which ideas have the highest number of votes (Popular tab)
• Filtered by status
• Filtered by category
What is the best way to get ideas accepted?
Our Product Managers receive lots of ideas and feature requests every day. Which ones are going to make it into the roadmap?
To help get your ideas and product enhancements accepted:
• When you're submitting an idea, focus on explaining the problem you want to solve and why solving it is vital to your own needs
• Provide scenarios in which you've been affected by the problem or by the lack of the feature you're submitting to make the problem clearer and provide business justification
• Explain the problem or the goal of your idea - this will help other customers understand and up-vote it, making it far more likely to be planned
• If you have possible design solution in mind, feel free to share these ideas as well
---
Did this answer your question?
---